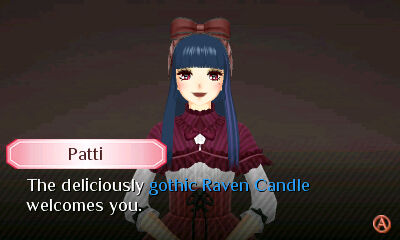 Raven Candle (レーブン・キャンダル Rēbun Kyandaru) is a gothic fashion brand whose items center around Victorian and gothic lolita styles. It has so far appeared in every Style Boutique game.
Style Boutique
"Haunting macabre mystique of Victorian gothic chic."
Raven Candle is affiliated with interior no. 12. The brand rep's name is Eleanor.
New Style Boutique
Fashion 101: "Dress up in elaborate gothic outfits inspired by Victorian fashion, covered with frills, ribbons and lace."
Raven Candle is open every day in the Exhibition Hall, and is invited to the Exhibition Hall later in the game. The brand rep's name is Patti (Rui, ルイ in the Japanese release).
Trivia
Raven Candle and Marble Lily are the only two brands to have appeared in all four games.