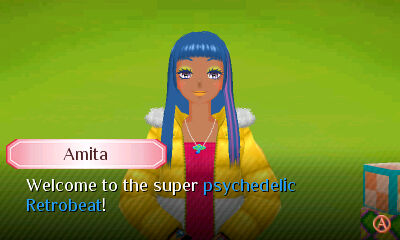 Retrobeat, known in Japanese as Torteporte (トルテポルテ Toruteporute), is a psychedelic fashion brand whose items center around vintage and groovy retro styles.
Retrobeat is open every day in the Exhibition Hall and is a brand that is later invited to the Exhibition Hall.
The description of Retrobeat in Fashion 101 is:
"Get back into the 60's and 70's groove with kaleidoscopic colors and patterns. Go on — indulge in the fab!"
The brand rep's name is Amita.