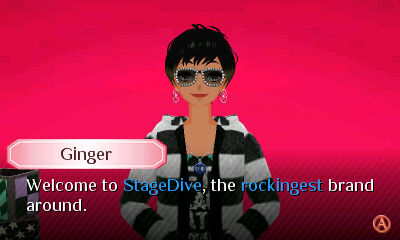 StageDive, known in Japanese as Stray Cat (ストレイキャッ卜 Sutoreikyabboku) is a punk fashion brand whose items center around rock and edgy styles.
StageDive is open every day in the Exhibition Hall and is available at the start of the game.
The description of StageDive in Fashion 101 is:
"The embodiment of the edgy rock 'n' roll lifestyle Perfect for bringing out your inner punk rocker."
The brand rep's name is Ginger.